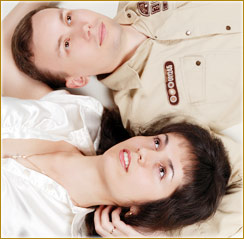 About
Vladonai Software
Our main priority - bright, simple to use, and functional software for everyday needs. And, which is most importantly, our software is created with love - we love to do software, and you can be sure that we are aiming software created by us to satisfy all your needs.
Vladonai Software is young familial software startup, established in May of 2009, owned by Volodymyr Frytskyy and Nadiia Frytska. Prior to starting Vladonai Software, Vlad and Nadiia create software for third-party companies (outsourcing), Iambic Inc. in particular (including Agendus for Windows, and Agendus for Windows Mobile). We decided to start private business, following the call of our hearts, and create appealing software thanks to accumulated knowledge, experience, and ideas.
At Vladonai Software our priority is to provide software products that are smart, optimized for speed, esthetical, as well as targeted for daily use. Our main app - AllMyNotes Organizer, we are positioning it as the best Box Notes alternative for Windows.

Here is a list of the most well-known products that our team members have developed in the past:
• Info Select for Palm - created from scratch version 1, back in 1998
• Info Select - maintenance of version 6 (Info Select is a successor of Tornado Notes for DOS).
• Agendus for Windows Outlook Edition - created from scratch by us
• Agendus for Windows Palm Desktop Edition - created from scratch by us
• Agendus for Windows Mobile - created from scratch by us
• Agendus for Palm - maintained by us
• Agendus Mail for Palm - maintained by us
• TinySheet for Palm - maintained by us
• TinySheet Charting module for Palm - created from scratch by us
• Sales Warrior for Palm - maintained by us
• Trip Tracker for Windows - maintained by us
• Trip Tracker for Windows Mobile - maintained by us
• Vehicle Manager for Windows - maintained by us
• Vehicle Manager for Windows Mobile - maintained by us
• EzQuote for Windows Mobile - maintained by us
• Sales Warrior for Palm - maintained by us
If you have any questions or comments, please feel free to contact us through our email address:

US mailing address:
300 Hamilton Avenue
Palo Alto, CA 94301
See also:
• Job Offers at Vladonai Software
• AllMyNotes Organizer - Credits
• RSS feeds - subscribe to news from us
• Resources for Affiliates, Partners, and Media