Reveal the power of All

My

Notes Organizer - created by Vladonai Software!
Our note-taking tool - the ultimate resource for organizing every bit of your important information! From random thoughts and imaginative concepts to site login credentials and site-connected records, this application has got you covered. You can even use it to compose your own books! With this tool, you'll never worry about losing important information again. Ease your workflow and enhance your output at this moment!
Tired of managing multiple tools to organize your data? Let AllMyNotes Organizer assist. This robust software is a Document Management and Individual Information Archive program rolled into one. Featuring an unique and reliable auto-recovering data store engine, your data is secure even in the event of file corruption!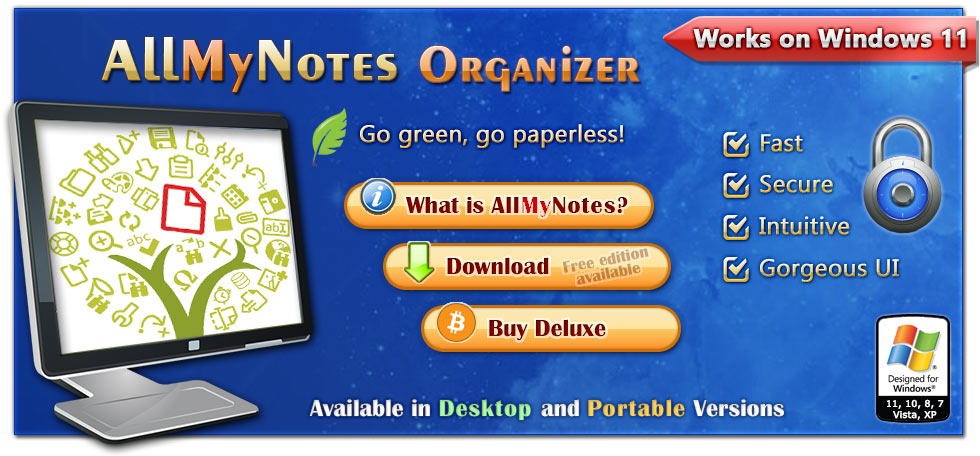 It's totally up to you where AllMyNotes Organizer will be used, it's a free-form information manager for PC, whether you need to keep random notes, manage extended records on your contacts, track tasks, build up your own knowledge base, save diaries, it all and much, much more can be entrusted to this software! All your data will be stored in single, password-protected storage file, on your own PC, away from public clouds and third-party sites.
Do you feel safe when you save your private information (financial, authentication credentials, e.g.) to a so-called "cloud" provider, on someone else's computer? The solution is clear - store your data on your own device. AllMyNotes Organizer helps you to encrypt it on your own disk! With our independent storage solution, you have complete ownership of your data, without risking your privacy to potential online storage vulnerabilities. Say no to subscription fees, connectivity issues, and capacity restrictions. With AllMyNotes Organizer, there are no boundaries, and your private records remain exclusively accessible to you!
We offer free (Lite) and paid (Deluxe) versions of AllMyNotes Organizer. Whatever which edition you pick, you can trust that it will faithfully keep your personal information, let you instantly access it. Unlike other subscription-based programs, we never charge recurring fees. Our philosophy is simple - everyone should have access to a quality software, irrespective of their budget. Even our free (Lite) edition is feature-packed. Deluxe edition has a reasonable price. We have no hidden motives. Once you purchase the product, it never expires, and we never urge our customers to renew their license, except for very distant, optional, major upgrades. It's all yours!