Daily we are receiving big number of positive feedback from our customers on
AllMyNotes Organizer
. On this page you can see just small part of quotes we've collected so far:

A diary with a note for each day, I found it very helpful


Constantinos Vourkas

A good organization of my works, I like to be organized


Carlos Galli

Absolutely extraordinary


Sagren Naidu

All My Notes gave me excellent value for my money


Preston Mitchell

AllMyNotes - great software - I would be lost without it!


Myles Mckeown

AllMyNotes Organizer is an extremely good and useful application, the best note-taking organizer I have tried so far


Asen Anastassov

AllMyNotes Organizer is excellent, keep the good work!


Dan Nour

AllMyNotes Organizer is the best product I had used. I will finally be able to get my computer organized. And it will be all in one place. Thank you for inventing such a great program


Rhonda Dickerson

AllMyNotes has everything I need to remember everything


Tom Hum

AllMyNotes has given me passion in programming =D.


Hien Le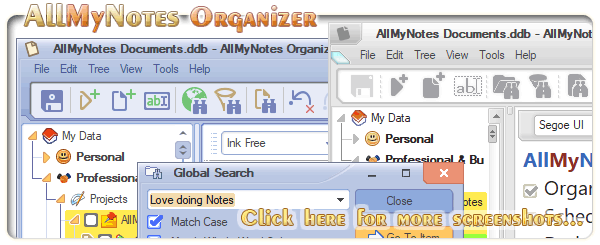 AllMyNotes helps me to keep notes and articles and appiontments of all sorts


Mark Francey

AllMyNotes is a really good program and it is great to see such good support. Previously I used a competing app, but this has not been changed in several years


Andy Howe

AllMyNotes is an *excellent* program. I have reviewed ALL the Windows notetaking software at WikiPedia's List of Notetaking Software - and yours is the best. I have already passed along that recommendation to over two dozen people


Edward Reasor

AllMyNotes is the most useful program I have ever found!!


Teressa

AllMyNotes is very beautiful an integrated. It is ideal for my work as a teacher to collect my lessons here


Mostafa Ashna

AllMyNotes is very helpful to organize my day


Wenmei Li

AllMyNotes is wonderfully designed - I especially like the easy-to-find icons. Adding images and changing text is easy


Alice Wendon

AllMyNotes looks great. Nice interface. Well designed


Stewart Lindenberger

Amazing. If I ever own a software company.... you've got a job. WAY above and beyond. I didn't expect to hear from you until at least a couple of days. You're amazing


Chris McCullough

Any serious and sensible user who collects information should seriously use this program, it has a huge potential


Pintso Namgyal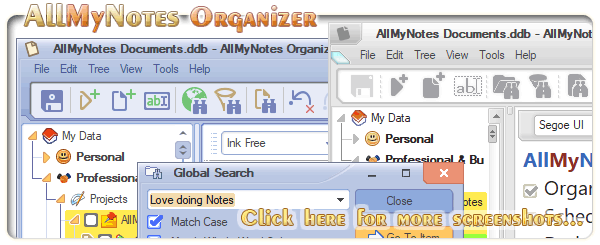 Been looking at alternatives for One Note and your software looks by far the best


Mike Handscomb

Best program ever used. Keep coming up with programs like this You'll put others out of business. Great again


Janetta Frederick

Brilliant and so well organized


Hazel Courtney

Brilliant! Really helpful for organization and starting a home business


Nikisha Cantle

Cool n Practical. Easy to work smart - get organised without hassle


Harry N.

Database autosaving and saving it anywhere, attaching pic, giving icons to notes, configuring the text, encrypting the notes is just perfect for notekeeping


Pintso Namgyal

Everything I ever need is already included in the program so far. It's very helpful in organizing my work life activities


Hansi Zim

Exactly what I was looking for


Andrew Mark Salder

Excellent Personal Info Manager -- Highly Recommended!


Preston Mitchell

Excellent program, I love this program. It's excellent for my current needs at college, personal studies, personal finances, family notes, etc. Thank you very much!!!


Raul Pieeros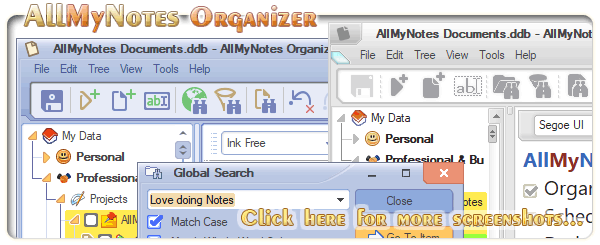 Excellent! I tried all the other similar programmes. None seemed to be useful. For my translation works it has proved to be the best, to translate, to organize the topics under different heads, to directly paste the material etc. Thank you very much for such an excellent program


Ram

Find it very helpful in managing my daily affairs


Terry Butler

For me AllMyNotes is an AllDay software that helped me a lot in to organizing my tasks


Ciprian Orban

Good, really was suitable for I what i required. Easy to use and rather self explanatory


Jake Barry

Great Program! Simple and so far it seems to handle just about everything


Edward Lawrence Leach

Great desk top note taking for ideas, planning, reminders, jotting down ideas, and lists


Donna Damsgaard

Great features. Works like a charm to get me organized


Subhash

Great little program, and good for keeping track of important thoughts and details


James Gibson Jr

Great program! Excellent!


Ben Boily

Great program! For what it's worth, I know that you probably don't consider your password generator a primary part of your program, but it is one of the best PG I have ever seen, paid or free!


Mac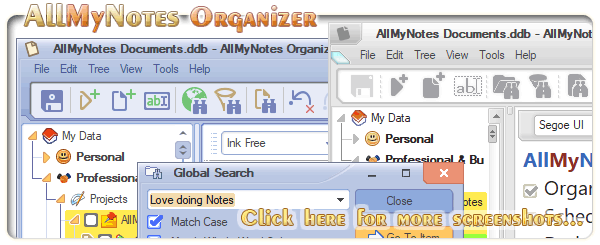 Great! this product helped me organize things especially that I love to plan things ahead


Irish Meolyn Turno

Great, useful, easy to use, practical (AllMyNotes)


Lexi Bulisky

Great. I wanted a text scratch pad that auto saves my work. This does this and much more


Brenden Phillips

Hello! Just a note to congratulate you on your AllMyNotes Organizer software. It's extremely pleasant to use and it runs very quickly


Jacek Tomaszczyk

I am an avid user of allmynotes and have recommended it to many friends!


Dave Domina

I am in love with this software. It has replaced Microsoft OneNote. OneNote actually looks outdated in front of this software. Now I am more organised because of you


Keshav

I am now almost fully retired and enjoying my time doing the research I referred to.Were it not for "ALL MY NOTES", this would not have been possible since I would have stopped a long time ago


Patrick Micallef

I am really enjoying using the AllMyNotes Organizer!


Angela Kumar

I am really very satisfied with the product. Thank you very much for giving an opportunity to use a free version of it


Arunava Mukherjee

I am trying to choose just the right tools to do my portable blogging and this is a perfect fit


Charles Cairns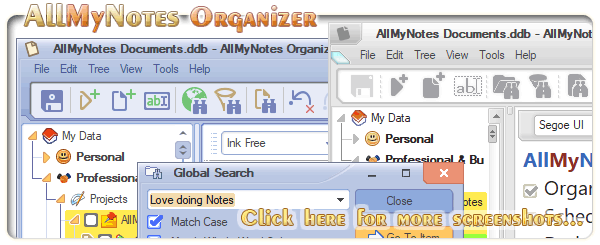 I am using AllMyNotes Organizer and this is the one I love and the one I bought


Rosie Bixel

I am using it to write notes on all books I use in my study and I just love it


Torfi Gudmundsson

I am very impressed by the standard of it as it is an excellent programme with so many uses!


Angela Kumar

I bought All My Notes over a year ago...and love it as light-duty personal database


Preston Mitchell

I can't begin to express my appreciation for your reply and the assistance you provided. I said 'low' priority - wow, high speed response! Your service is as good as your product


John Mair

I can't say enough good about my ability to keep notes and find them instantly


Dick Clark

I find All my notes Deluxe to be very helpful in keeping track of medical appointments & many many other tasks etc & the alarm is great! A wonderful program


Vince Korbett

I find this program very helpful and easy to use


Robert Nelson

I find this program very practical and aesthetic


Wagner Mark

I have been a user of AllMyNotes for a couple of years not and absolutely LOVE it


Harry Moritz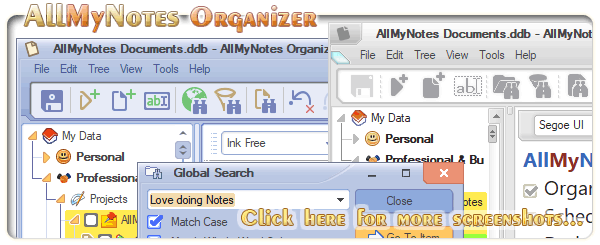 I have had AllMyNotes for a few days and would recommend it to anyone


Chris Goodchild

I have reviewed several different programs. This one is very easy to use yet powerful. The user interface with folders is excellent


Matthew Young

I have used your program for writing a diary. I like it so much. Thank you for creation this program! It is so useful for me!


Som Apiwatcharoenkul

I have using outlook tasks and failing miserably with it... I decided to evaluate a bunch of programs and yours is THE BEST


Jeanette Rainal

I just LOVE this program. It is a LOT better than InfoSelect and so much affordable too


Jerry Lee

I just love this program so much! Its great and gives me the desire to write more


Larissa Rocha

I like everything in this program, it`s cool!!


Vasilena Mitrova

I like having a bundle of notes all together here in one place, and being able to easily add some more notes or information


Hans-Heinrich Mohn

I like it as it organises all your things


Anne Walmsley

I like it because it can display all notes in a single page view


Adam Syahroni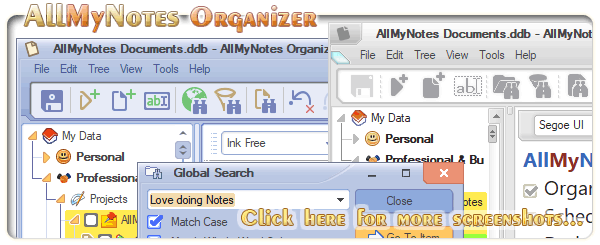 I like it very much. Thank you!


Lisa Douglas

I like it, has really made me organize my notes in an easy to find manner


M Chapa

I like it...its good to take notes in my classes for college


Alexis Acevedo

I like that I can easily find and manage all of my thoughts, ideas, and other things easily


Alyssa Pontillo

I like that the information always stays no matter what, that the system tray has it conveniently accessed, and how easy it is to categorize information and move it around


Jamie Kanda

I like the easy but well done program. It is such a nice program


Mark Johns

I like the easy system tray access and the easy note creation and moving/categorizing. I use it as a to-do list because my brain tends to diverge (make up several unnecessary tasks) and then I can just easily move the important things to the top


Jamie Kanda

I like the features of the program, especially its aesthetics. It will be very helpful for me especially that I have many files to organize


Ninay Quinones

I like the folders, I can personalize and keep everything organized and easy to find. Better than paper/printing. Thank You!


Teresa Petersen

I like the freeform tree structure which is so flexible


Michael Cayley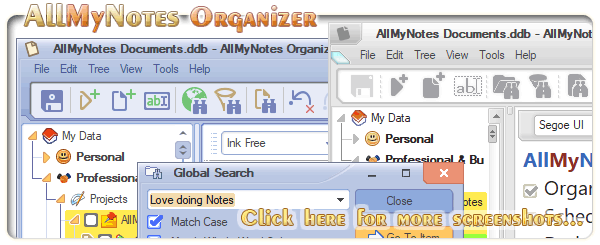 I like this program, it's easy to use, I like the design and the colors, seems to be all organized


Marlen Saldivar Cantu

I like to organize myself and this program let me do it in a good way, so it's easy found anything you have entered. I like to think in future and I often have ideas about many areas of my life, so I classified my notes for areas of life and time line. Well, I love the program


Johnathan Abad

I like to use it for text notes and writing because I can have lots of notes and folders and it is easy to go between one note/folder and another without having to open and close files, as an address book or mail list because I can keep it separate from my email program!


Teressa Beacher

I like your program, easy and useful!


Ng Kok Hong

I love Allmynotes! It fits all my needs, it's simply fantastic!


Alessandro

I love it because I am able to keep all of my written files organized within one software.


Leyla Ann Landron

I love it very much, your software is very helpful for me and its very easy to sort out my all notes. Thank you very much. Well done


Martin Ciganik

I love it! Best notetaking program I've found. Easy to use for class


Jen Grimo

I love this awsome software! I have to thank you for putting my life in order... I'm really serious when I say this


Ajay Deshpande

I love this program!


Anna Sabolich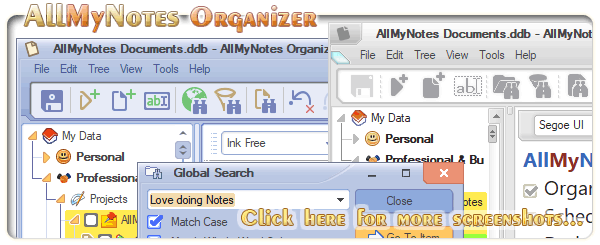 I love this program, it rocks great ideas keep it up you guys have made an awesome program


Jamie Johnson

I love this software and I just can't stop telling others to use it


Lynne Chrapowicki

I love to use it for notes in my classroom


Tracy Ahearn

I love your program!! I use your program every day for so many things after using it for a few months it is one of a couple of programs that I can't imagine doing without


Teressa Beacher

I love your program, it has so many uses and I use it almost everyday!


Teressa Beacher

I love your program. Thanks for all your hard work in keeping the program up-to-date


Joanne Lewis

I love your software! I use it to track a lot of my Bible and Bible software modules and it works really great


Darrel Wright

I own and have used the Deluxe edition for quite some time. I love the program, its ease of use, and features. Great job!


Rick S.

I really appreciate this organizer -- it's the best!


Rosie Bixel

I really feel something is missing when I don't install this program on my PC


Pintso Namgyal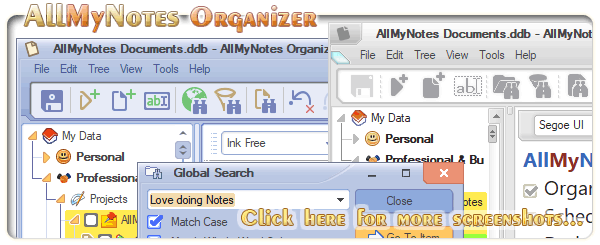 I really like it. It's simple and user-friendly, it lets me organize my thoughts which is great. I love this program!


Claire Sheridan

I really like this software because I can organize my file and helped for my ideas


Patrick Martin

I spent the day on this and I can't get to bed, I'm just finding more and more things to do with AllMyNotes Organizer, things I didn't know I wanted to do


Freddie Weeks

I switched from InfoSelect 2007 to AllMyNotes, and AMN is working great for me. Never used 90% of InfoSelect's extra "bells & whistles". AMN loads very fast, and searches are virtually instantaneous. My AMN database size is a large 464 megabytes, but AMN only consumes about 27K of RAM when it's running in Windows 7 Pro 32-bit. Very impressive


Bill Billick

I think it's a great tool and I have told others about it. Thanks very much!


Chellee Chase-Saiz

I think this is a great note-taking program!


Sarah

I use AllMyNotes everyday. Would like to let you know that you are doing a great job with the software by adding useful features regularly. Thanks and keep up the great work!


William Lagna

I use it almost every day, it has so many great uses!


Teressa Beacher

I use it as an address book, diary, mail list, post card and pen pal clubs info, for notes and I love it!!


Teressa Beacher

I use it every day for my genealogy work


Kari Dennis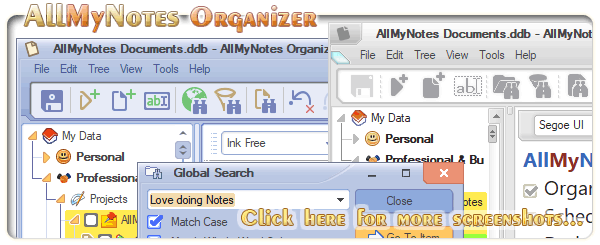 I will keep it for forever as long as I am alive, love your software


Alex Khan

I'm a programmer, I love your application. I keep all project notes & snippets of code in the organiser, very handy


Mike Opperman

I'm a teacher and a writer and that I keep copious notes about tips on good teaching and good writing


Joanne Lewis

I'm a writer and I use it for storing story ideas, notes, research, etc. All My Notes is one of a very few programs that I swear I can't live without


Kathy Armstrong

I'm impressed with what I have seen thus far. I especially like the tree hierarchy and the thumbnail page view. This is a very intuitive approach which decreases the learning curve for new users


Janet Garrison

I'm quite obsessive about how I organise my notes and AllMyNotes is handling them all brilliantly. I've even just imported my Evernotes and I never thought I'd see the back of that. Well done on creating such a brilliant piece of software


Craig Mollekin

If you want a powerful and fun personal info manager to organize your notes, To Do lists, reminders, & etc, All My Notes is the way to go


Preston Mitchell

In my mind there is a "register" with a list of persons who have influenced my life very positively, and your name is on that list. Many times, while using your organizer, I say to myself "Well done Volodymyr for this masterpiece"


Patrick Micallef

It can help with novel planning as a collection of grouped ideas to work from


Bill Cooke

It gives me a perfect overview on my life, my activities, my deadlines, my family, my friends etc


Karsten Skyum Larsen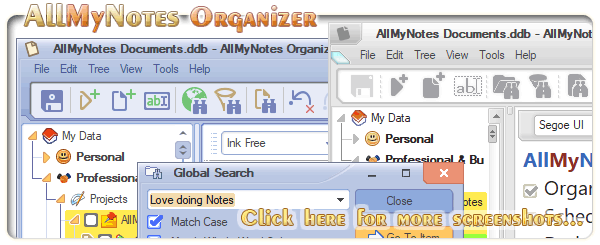 It has good features. I love diary writing


Salil Prashar

It is a very good program. It is helped me a great deal in managing my activities


Jacob Asante

It is a very helpful organizer to simplify our life


Martin Morales

It is great, the tabs on the side, for categorizing are great. Keep It Up :)


Duvan Pena

It is indeed a very useful Organizing Software, and all it's features are undoubtedly great, along with it's novel interface!


Niren David Alexander Joseph

It is my lovely application for personal notes, thank you very much :)


Izabela Michalska

It is packed with many useful features


Preston Mitchell

It is really an excellent program. It is very simple and useful


Belinda Jimenez

It is really good program for taking notes


Sungeun Esthela Shim

It is simple yet powerful in helping organize so many interrelated tasks. Thanks for your time in developing this handy tool


Francis Okello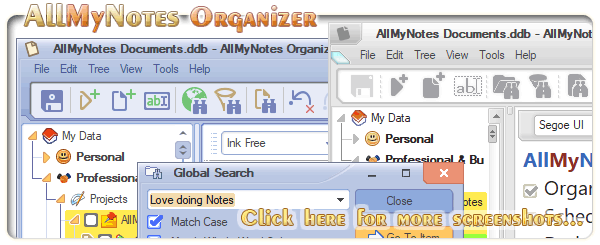 It is user-friendly, simple and not frustrating in the least to use. I would highly recommend this program and will continue using it myself


Christine Morrell

It makes it so easy to keep lots of different information in one place!


Angela Kumar

It's a great idea, and very useful, a very good experience


Alberto

It's a great product and very specific to ppl needs. Thank you for a great software


Sam Havik

It's a very nice organizer. It's very functional and convenient organizer. Plus - it is easy to use, there are many options


Alex

It's also a great place to keep misc. notes that don't really fit anywhere


Joanne Lewis

It's best for my notes all printed documents: easy to find, quick to open


Sergey Solan

It's easy to use and does what I need it to do


David Manning

It's exactly what I was looking for, being able to store information on a DARK background with rich text facilities


Thierry Franzen

It's fantastic for me what I need most


Ekreme Gerede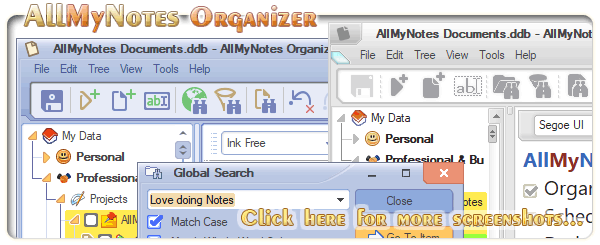 It's good and awesome just like it is now!


Adriane Avril Goodlucks

It's great and full of features


Julius Allen

It's intuitive and easy to modify, clear look. Very good job!


Nikolay Dantchev Bakalov

It's intuitive and easy to modify, clear look. Very good job!


Nikolay Dantchev Bakalov

It's nearly six months since I first started to use AllMyNotes and have hundreds of entries. The software is used daily and is one of my most used programmes, I rate it amongst my favourites and would be lost without it


John Jarrold

It's nice, helpful, easy to use


Sameh Shalaby

It's simple and great!


Prasad Sharma

It's super-sticky Post-its on steroids... without the clutter


Lee Richan

It's useful helpful and flexible


Sliltip Roongrojsub

It's very easy and very helpful for my daily management arrangement. Thanks so much


Muhammad Nur Ibrahim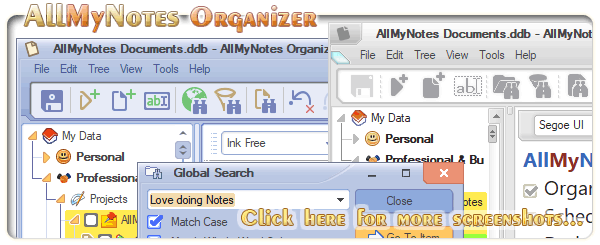 It's very good and helpful


Deepak Sharma

Its awesome! I like that I can type anything and keep it locked away from prying eyes!! Plus, I'm private person, I like to deal with things alone. Thank you for making this! :)


Joanne Flavell

Its extremely easy to use and it keeps track of everything i need it for


Christina India Morales

Its helps keep records of everything


Erick Kaburu

Keeps all notes centralized, which helps keep track of them all, and stops the hard drive becoming overly cluttered


Luke Bigwood

Like the look and the layout very much. Easy to understand and use - simple but very efficient - Able to get started straight away


Angela Kumar

Looks good for a personal diary


Louis M Sussholz

Looks nice, provokes to write a diary :)


Fiodar Ramanouski

Love the program, overall super satisfied!


Thad Rutherford

Needed something fast and simple for organizing project notes, this was perfect


Alex Delarge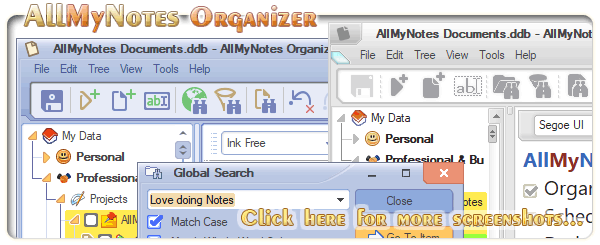 Nice program - I like the layout - best I've seen of it's type!


Trudy Miller

No other agenda has filled my expectations, congratulations!


Rafael Garcia

Of course I like it... Why? Because I can write all things in here


Umar Rifaldi Pulukadang

Oh I absolutely love this organizer!


Elizabeth Jane Rogers

Only three words: simply, smart, excellent... Thank you!


Ales Jakubik

Program is fantastic, thanks :-)


Nikola Markic

Really glad I found this lovely bit of software after using the brilliant OneNote, but rather expensive!!


Andy Bosley

Really good program, allows me to take my notes with me


Paul Bodell

Simple and very easy to use


Ganesh Swaminathan

Simple, nice interface, that's all you need for notes


Aras Novas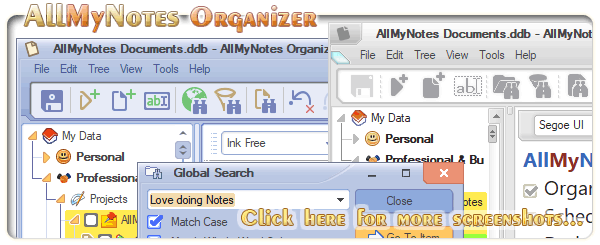 Simple, quick to load, simple and comfy interface to work on. Keeps information organized and easy to keep


Jennifer Crossland

Simplicity and multiple features in one place


Abdul Mudassir

Simply the best!!! No other words to tell! I already install several programs with the same purpose, but not's compare it!


Maria Jose Ataide

So useful to memory everything essential as passwords or codes


Karine Laporte

Thank You very much for this wonderful product. All My Notes is one reliable place to quickly store and retrieve the most frequently accessed information. I can't praise it enough


Ajay Deshpande

Thank you for making it available as a free version. The Deluxe edition is even better


Angela Kumar

Thank you for making such a good notes program, and making it affordable!


Kalman Kanyo

Thank you for producing such a light-weight organizational and note-taking tool. It is an excellent product that can truly assist college students and others in need of a simple yet useful utility with aspects that cannot be achieved with Microsoft and other products


B. L. Robertson

Thank you vladonai soft for your great notetaking app. It's a pleasure to us it


Lisa Santika

Thanks for an excellent piece of software


Pete Graszer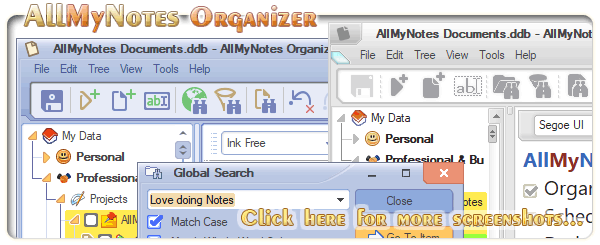 Thanks for making AllMyNotes. It's a life-saver for my upgrading my computers to Windows 7, Windows 8


John Reynolds

Thanks for making this wonderful software. I've been using this software for about 1 week and I'm loving it!


JH Kang

Thanks for this super software - I am enjoying using it! I started off v basic with just a few folders and lots of notes, and every time I think "I wonder if I can do ..." then I find I can! love it :-)


Richard Matthews

That's THE best notes-software!


Marcus Barkhahn

The application is very good, it does cover my needs, this is what I was looking for


Elena Zaballa

The best organizing database I ever seen


Jean-Luc Antoine

The best program I've used so far. Very simple and user friendly. Also like the fact that you can easily transfer it through flash drive. Thanks


Abdulai Bah

The developer regularly upgrades All My Notes... and each new version is better than the previous one.


Preston Mitchell

The interface is really nice that prompted me to use this product. Just keep it as simple and user-friendly as you can


Saikiran Basu

The program is very useful as is!


Patricia Dunn-Hill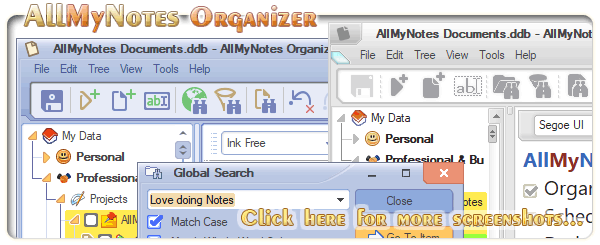 The program looks good, works great, and lends itself to many purposes


Joanne Lewis

The software is the one of the best things I tried on computer


Ozkan Haylaz

This is a fantastic program. I would like to congratulate for making such a wonderful and useful software


S. Rajan

This is a good program with a very eye pleasing UI


Adam Rochefort

This is a perfect program!


Gabor Zsuzsanna

This is a really good tool for organizing and storing information. It has unlimited possibilities


Chaz Haynes

This is best software for me


Shahidaziz

This is easier good note manager


Lainin Nafis

This is great software. I love it. Good replacement for InfoSelect


Dick Clark

This is great, I needed an organizer, not just a calendar. It has everything I need and it's very easy to use, It's my new toy! Thank you!


Ana Tesileanu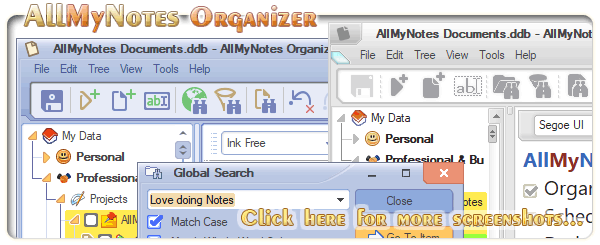 This program helps in notetaking, do it well, and, most importantly, in a simple way


Chris Goodchild

This program is probably some of the best money I have ever spent. I love it. It is easy to use, doesn't freak out over formatting, and is customizable in many ways


Dana Gordon

This program is really a good help, and most important keep the things simple


David Torres

This program is very good. It's incredible!!!


Joana Moreira Rebelo

This program kicks arse! Fantastic!!


Thomas Higgins

This software exceeds expectations


Craig Mollekin

This software is fantastic, wonderful, I do not change it for anything


Rafael Garcia

Tis is an amazing program, and just what I need


Jay Malaby

Very easy to use and will be easy to keep up to date


Carole Rees

Very fast opening good looking very useful!


Perumal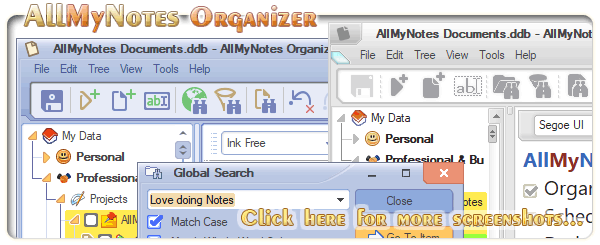 Very good and useful program


Nemet Peter

Very good program.... I never seen such one before


Nenashev Vladimir

Very handy for daily notes


Nic de Bruyn

Very happy with the program. Cannot think of any improvements


David Parmley

Very helpful and easy to use


Ana Restrepo

Very helpful way to organize all information. I was the guy with the answers at the office because of this software


Fayez Khwaja

Very helpful. I personally really like the clean tree structure


Sara Wright

Very impressed with your software exactly what I needed


David Hunt

Very nice, very clear interface


Glenn Gerring

Very simple and easy to use. I have a wall full of post it notes for my staff and this (AllMyNotes) will slowly replace it


Wayne Lockyer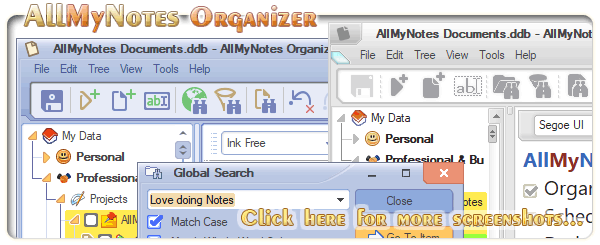 Very thoughtfully done. I have seen many PIM freeware and I have reasons to like this


C G Rishikesh

Very useful and flexible, thanks very much for your effort in developing such a good program


Nat Rittaporn

Very useful and wonderful concept. Great idea


Srinivasan Malarampath

Very, very, very useful, nice interface too


Danjah Ross

Was looking for a good portable PIM, this is brilliant


Andy Stockley

Was looking for something like this program and I have had good use of it! Great to summon up everything i need to do


Marcus Woge

When I saw Microsoft One Notes 2007, there is no big difference. One Notes is not fast. You're FAST!


Budi Wahyu

Wonderful, wonderful.....wonderful program!


Shenae Adams

You can't go wrong with AllMyNotes!


Joanne Lewis

You created something truly beautiful and unbelievably easy to use!


Lilia Guillen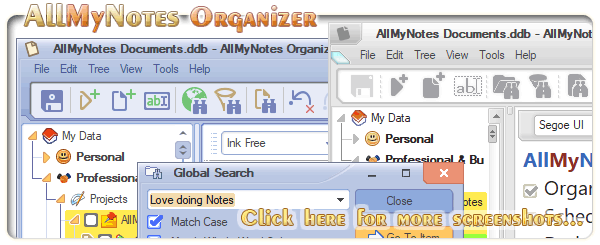 You did a marvelous job, it's so-o-o beautiful! I give you a "5+"


Lilia Guillen

You do have a great product and I was very glad to see a portable version as I use a lot of portable applications as a programmer


Andy Allord

You wrote a great program... very logical... very well-written. I just bought 2 copies :)


Jeanette Rainal

Your customer service is as great as your product and I really appreciate it


Chellee Chase-Saiz

Your great soft made me switching back from Mac to Windows. Jesus bless you!


Alain Vezes

Your organizer software saved my professional life a few times already since I bought the license a month ago - and will more than likely do it again


Yannick Forest

Your program keeps me organized and also very handy to use as notepad and other quick notes or reminders. It's there on my task bar so it's easily accessible.


Florita Langseth

Your program will truly change everything!


Lilia Guillen

Your programm is great, much practical than OneNote. Keep it up!


Marius Miclea

Your programme is awesome! With multiple-exclamation-marks-kind of awesome!!!!! :)


Anonymous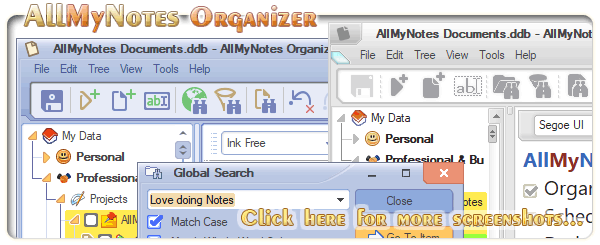 Your software belongs between the best I have seen, congrats


Viktor Fajta

Your software is amazing and the brains of my business. I highly recommend it. I've been using Tornado Notes since 1986 so have a large (5000+) body of notes. There is nothing else even remotely similar


Lee Richan

Your software is one of a perfect ones


Randy Remorosa

Your software is very easy to use. It is always sitting in my tray for whatever need may arise. Thanks again for the great work


William Lagna

Your support goes the Biblical "second mile" -- you are the kind of software company I want to buy stuff from!


Lyman S
Quotes count: 245