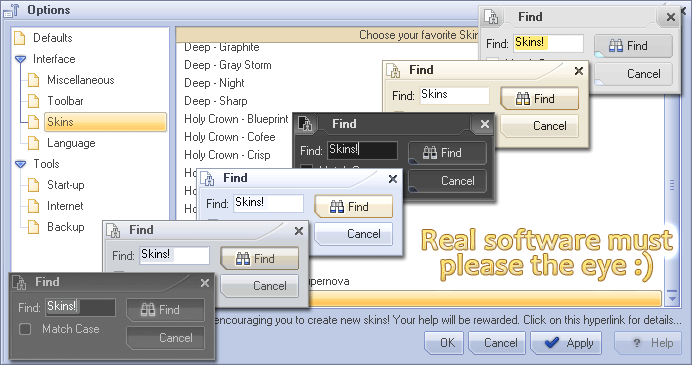 If you have even basic artistic skills, you are welcome to create skins/themes for AllMyNotes Organizer, please read below the details how to create skins. We are even offering Deluxe Edition license for AllMyNotes Organizer to encourage new skins creation under following two conditions:
1. The skin or theme, or small element of it looks good enough to be either distributed with the application, or published on our web-site, or, at least, if we'll find some elements of it worthy to be included in other skins;
2. Provide us with source file of your graphics (.psd file), we need it as we frequently add graphical elements and new icons, without this file we'll be unable to maintain the Skin.
--- How to do Skins for AllMyNotes Organizer (draft guideline) ---
Skin files are located under c:\Program Files\AllMyNotes Organizer\Skins\folder. Currently you can find there two skins - Holy Crown, and Deep. Each of them is located in separate folder.
Each folder contains two files:
1. SkinInfo.ini - it contains all colors and metrics of the skin.
2. .png file of graphical skin elements. Coordinates of controls in this bitmap are saved in SkinInfo.ini
To create new skin:
1. Copy one of existing skins to another folder
2. In copied file rename skin name in SkinInfo.ini - see FileDescription entry, it would be nice to keep folder name, and skin name the same. That's pretty much it, since this point, you can either change colors, or paint a bitmap, whatever.
Other Tips:
1. Usually, we are doing skins using PhotoShop in .psd file format, it allows to apply powerful effects and benefit from lawyer effects and transparency. And after skin bitmap editing is done, we export data to skin .png file. Work exclusively with .png files is strongly not recommended, it's exhausting for an artisan and non-extendable for future expansion.
2. Please feel free to contact us at Vladonai Software for resources, we can provide you graphics we already used for skins, and possible some more tips and experience.
Content of bitmap and SkinInfo.ini is self-explanatory, entry names are well named, and on bitmap we've added labels to simplify creation of new skins. You might need information on icons meaning in toolbars, menus, buttons, tree, in this case please contact us, we'll gladly provide you with details and other resources.
P.S. Here is a quick visual example, how image corrdinates are reflected in SkinInfo.ini file: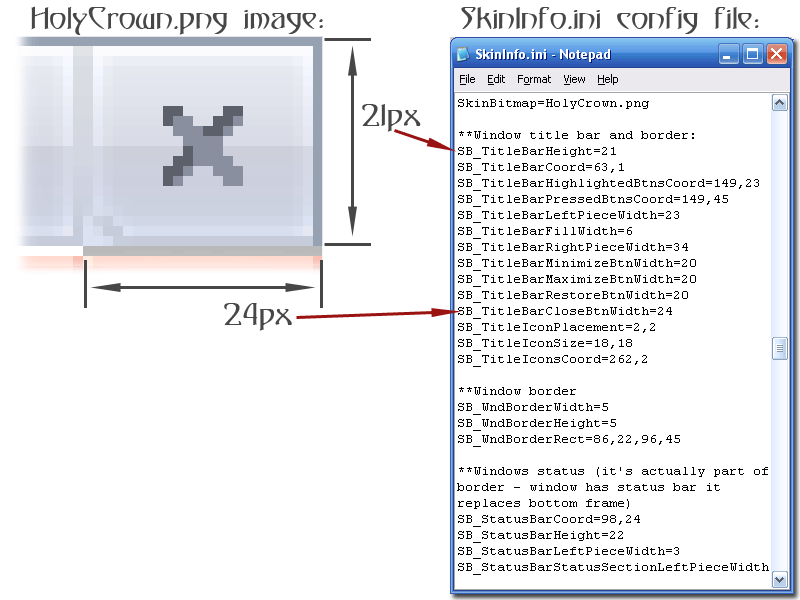 Note: Lite edition is limited to 2 skins only, whereas Deluxe has more themes.
Have fun! :-)