AllMyNotes Organizer

- the best encrypted Office title to suit your note-taking needs!
AllMyNotes Organizer - Personal Information Manager that suits everyone to keep any kind of random information.
Capturing memories, keeping diaries, and organizing your random information has never been so easy before!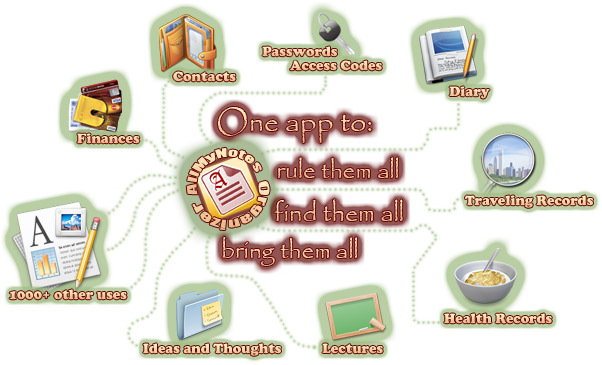 ---

Easy plus Nice.
Our aim: only important features and simple to use gorgeous appearance. Concentrate on doing your writing, not seeking help files.

Protected.
Your valuable records are safe from prying eyes - just set a password for your information, and AllMyNotes Organizer will encrypt it by the 1800-bit cipher.

High-Tech.
Instant search. Lightning-fast database-driven storage file format. Export to RTF, HTML, and simple text. Localized to many languages, Themed interface.
---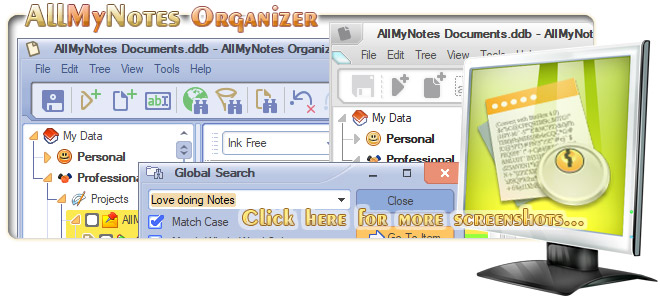 ---
What makes All-My-Notes Organizer a perfect PIM?
Though there is so many PIMs out there, majority of them are very same - same features, fixed forms, standard frameworks. But hey! What if someone prefers something else? How about variety? So we've chosen an alternative way... a better way, as it appears to us... For example... Why contacts must be organized in to a strictly fixed-forms? Do we actually want these limitations? What if the user will define what forms of data representation he likes? So we've done an app which is sort of a constructor, so the customer can build out of it any type of information keeper he likes. We provide tables, that might be stored into an outline structure, alarms can be placed in any text place, phone numbers can be dialed using Skype and any other call providers just by single click on it. No matter what you want, AllMyNotes Organizer will do it for you! A private password keeper? A save diary? An app for writing articles... Ouch! There is no limit at all! Just try it out, and you'll see how useful it is!
---
System Requirements:
Windows XP and newer versions - 11/10/8/7/Vista/XP, compatible with both 32-bit and 64-bit systems. Works under Linux and Mac (Wine-like environment required).


Designations:
Adaptable PIM program, Adjustable PIM app, Freeware PIM app, PIM software, Portable PIM, Secure PIM app, Cool PIM, Friendly PIM program, Good PIM program, Safe PIM app, Personal PIM.
Siblings:
Personal Information Mgr
,
PIM (Personal Information Management)
,
Diary App
,
Note-Maker
,
Notes Keeper
,
Doc Mgr Program for Win
,
Capture Notes Program
.