AllMyNotes Organizer is a world-class writing app that finds perfect use for scriptwriters, novelists, academics and everyone working on long/random texts requiring order and research, or deal with chaotic process of writing. If you are seeking for really good Book Authoring Software, download the freeware version, or, take a free 30-day trial period of Deluxe Edition. We did it with love, and, we are sure, you'll fall in love with it too!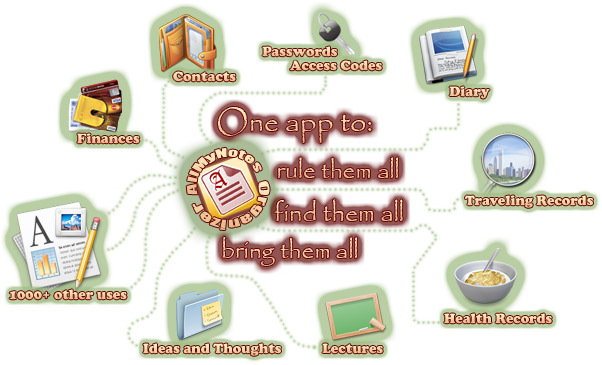 ---

Ergonomic + Superb.
Our goal: only important features and simple to use attractive appearance. Focus on doing your docs, not searching manual.

Secure Encryption.
All your important ideas are guarded from unauthorized access - just provide a password for your data, and All My Notes Organizer will encode it using the 1800-bit cypher.

Engine.
Instant search. Rocket-fast database-driven storage technology. Export to Rich-Text, HTML, and plain text. Localized to many languages, Themed appearance.
---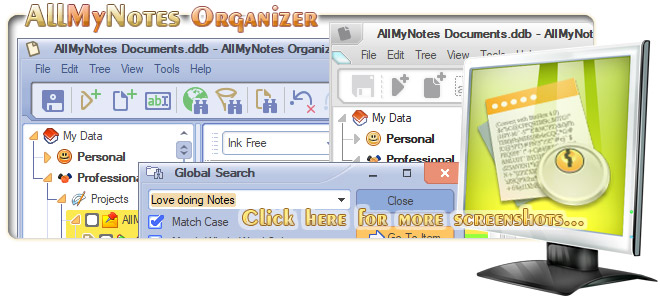 ---
Tame your story authoring thirst with AllMyNotes Organizer!
Googling for nice writing environment to work on your new ebook, novell, screenplay on your PC? Welcome to the AllMyNotes Organizer family! Focus on your writing in peace of AllMyNotes Organizer - beautiful interface, simple and yet powerful features for data privacy protect, highly failure-resistant database engine. Create your ebooks, short stories, novels and other writing projects today quickly with AllMyNotes Organizer. Simply download, install, and you are ready to write your Magnum Opus :)
---
System Requirements:
Windows XP and all higher versions - 11/10/8/7/Vista/XP, compatible with both 32-bit and 64-bit systems. Works under Linux and Mac (Wine-like environment required).


Search Terms:
Creative writing program, Creative writing program, Download author program, Freeware novel writing app, Freeware screen writing software, Freeware writer program, Freeware writing program, Good Scrivener alternative for PC, Screenplay writing program, Script writing program, Story writing program, ProWritingAid alternative software, SIGIL-ebook alternative, Scrivener alternative, YWRITER alternative, Book authoring program at no cost, Book writing software, Data curation, Download software to write books at no cost, Ebook writing software, Fastpencil alternative, For PC, For windows, Free Scrivener alternative, Freeware license, Freeware software for book writing for Windows, Good software for book writers, Good software for writers app at no cost, Private, Secure.
Similar:
All-My-Notes Organizer
,
Personal Information Manager
,
Free Portable Diary Application
,
Daily Journal Program for Win
,
Daily Planner Program for Win
,
Info Mgmt
,
Diary Keeping Software
.