Welcome to Vladonai Software - the creator of All

My

Notes Organizer
Remember everything with AllMyNotes Organizer!


Introducing the only of this kind, off-cloud, random information keeper application - AllMyNotes Organizer, with state of the art built-in self-healing, totally stable, encrypted, and blazing fast database engine.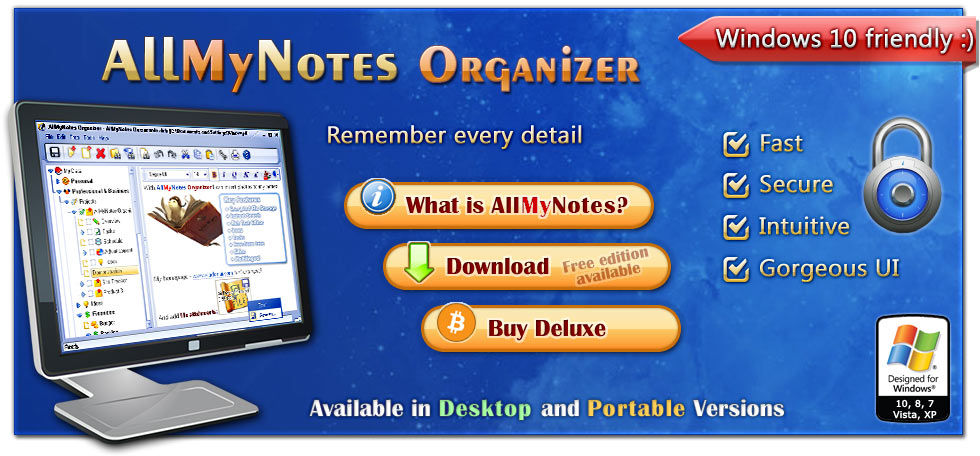 AllMyNotes Organizer is a free-form data mgr, the outliner program for PC, using it you can keep not just notes, but also organize contacts, tasks, project-planning, save diary, all your data is stored in to a single, password-protected file, on your PC, away from public clouds and third-party sites.
Can you like the idea to trust your banking information, access codes, personal diary to someone else? Your response is obvious! By holding your information off-line on your personal own disk you are ensuring your information privacy, you literally have your private information in your hands. Say NO to cloud storages! No more! No more security risks! With AllMyNotes Organizer you own Your data! Set yourself free from on-line service subscription fees! Make yourself dependent from Internet connectivity/speed concerns, there is no more limit on stored info amount/size, put that all behind!
We provide free and paid editions. Whatever version you choose, it will serve you faithfully by keeping every single character of your personal info accessible right away, protecting your privacy, we sell no subscriptions, our idea - the app must be either inexpensive, or, completely free of charge, that's why even free edition has quite nice set of features. While paid (Deluxe) version is inexpensive, we are not greedy, and we sell no subscriptions, once you buy the license, it will not expire, it's all yours!